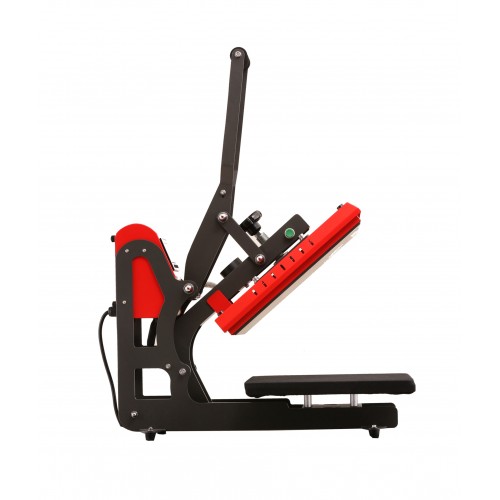 Hest HT-38, HT-45 & HT-45 V.2
MIR-PRESS has been working extremely hard to bring you the new, revolutionised "HEST" models. Both "HT-38", "HT-45" and "HT-45 V.2" are heat presses that deliver impeccable performance and flawless results, both models are equipped with a high-tech "Auto Release System", allowing the heat press to automatically open after the procedure is finished, giving results that will not fail.
Both safety and quality are thought well through for the compatibility of all customers (Beginner or Professional).
All customers can easily understand the simple mechanics of the products. With the highest quality, simple use and the high consideration of safety, this is the Heat Press you will need! Both sizes of the "HEST" models allow you to transfer your desired logo, image or picture to a variety of materials.
Ranging from T-shirts to Mouse Pads, anything with a flat surface is compatible with this heat-press. The revolutionary design allows for quick and easy change of the removable plates with a simple sliding mechanism.
| | |
| --- | --- |
| Machine Code | HT-38, HT-45 & HT-45 V.2 |
| Emergency Stop Switch | In all models |
| Machine Type | Auto Release, Clamshell |
| Platen Size |  38×38 cm & 40×50 cm |
| Pressure Thread Counter | Available with HT-45 V.2 |
| Visually Display Pressure level | Available with HT-45 V.2 |
| Under Plate | Exchangeable |
| Controller | Digital Time & Temp.Control |
| Printable Articles | Up to 5 mm Thickness |
| Gas Spring Control | Yes |
| Voltage | 120V/ 220V |
| Power | 15: 1.5KW/ 1.8KW; 20: 1.6KW/ 1.8KW |
| Time Range | 0-999 sec |
| Maximum Temp | 225 C |
| Temperature Accuracy | ±0.5% |
| Packing Size | 84x51x59cm , 93×55,58cm & 92x55x57cm |
| Net Weight | 43.25 kg & 48.55 kg & 50.55 |
| Gross Weight | 46.25 kg & 51.55 kg &50.55 |
NEW! Size: 40x50 cm / HT-45 V.2